Champlain Regional Cancer Program
The Champlain Regional Cancer Program oversees the quality and delivery of cancer services for the residents of Ottawa, Renfrew, Lanark, Prescott and Russell, Stormont, Dundas and Glengarry.
Service Partners
The Ottawa Hospital Cancer Program
The Ottawa Hospital Cancer Program is a comprehensive cancer program serving the population from Deep River to Hawkesbury and down to Cornwall. The program's staff and physicians provide leadership in a network of stakeholders, healthcare professionals and organizations across the region. The purpose of this regional program is to ensure care is delivered according to provincewide quality cancer standards and to provide care close to home when possible (e.g., cancer screening, surgery, chemotherapy, follow-up care and end-of-life care).
As the "hub" of this Regional Cancer Program, The Ottawa Hospital (TOH) operates a cancer centre with 2 sites – at the General Campus of TOH, as well as the Irving Greenberg Family Cancer Centre located on the grounds of the Queensway Carleton Hospital. The centre is a treatment and research facility that brings together doctors, nurses, researchers and other healthcare professionals – all committed to improving care, finding new treatments and enhancing the quality of life of cancer patients.
Partner Hospitals
Vice-President
Cancer Care Ontario Regional Vice-President, Champlain Regional Cancer Program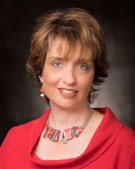 Dr. Debra Bournes
Dr. Debra Bournes is the Chief Nursing Executive and Vice-President of Clinical Programs for The Ottawa Hospital and Regional Vice- President Champlain Regional Cancer Program for Ontario Health (Cancer Care Ontario).
Before starting at The Ottawa Hospital in October 2014, Dr. Bournes was Ontario's provincial chief nursing officer at the Ministry of Health and Long-Term Care. She has also served as the director of Nursing New Knowledge and Innovation at University Health Network in Toronto, as assistant professor at York University, and in cross-appointments at the University of Toronto. Dr. Bournes earned her Bachelor of Nursing and Master of Nursing at the University of Toronto, and her doctorate at Loyola University Chicago.
Dr. Bournes has had a leadership role in healthcare research, education and administration for more than 20 years. Her work in nursing-theory-guided practice and research, health-services research and leadership has been widely presented and published. It has also sparked international interest and led to collaborations among provincial healthcare organizations and nursing unions interested in the recruitment and retention of nurses. Her work has been cited as a promising practice by the Canadian Health Services Research Foundation, and named a national best practice by the Canadian Council on Health Services Accreditation.
Dr. Bournes is known nationally and internationally for leading and consulting in areas such as person-centred care, academic practice and professional development for health professionals, health human resource analysis, strategic planning in nursing, and quality workplace and quality patient care indicator dashboards for healthcare leaders.
In 2008, Dr. Bournes received the University of Toronto, Bloomberg Faculty of Nursing Award of Distinction and the Ontario Hospital Association Award of Excellence in Nursing Leadership. In 2009, she received the Registered Nurses' Association of Ontario's Leadership Award for Nursing Research for her work on developing a research culture among health professionals.