Measuring Ontario's Small Area Inequalities in Cancer (MOSAIC) Study
Cancer affects many Ontarians and cancer rates vary widely across the province. By identifying health disparities[*]health disparitiesClose referenceDifferences in health access, experience or outcomes in a way that is systematic, patterned and preventable.
Source: Ontario Health's Equity, Inclusion, Diversity and Anti-Racism Framework in cancer incidence and survival across Ontario, we can help knowledge-users[*]knowledge-usersClose referenceIndividuals who are likely to be able to use research results to make informed decisions about health policies.
Source: Canadian Institutes of Health Research move towards more equitable[*]equitableClose referenceUnlike the notion of equality, equity is not about sameness of treatment. It denotes fairness and justice in process and in results. Equitable outcomes often require differential treatment and resource redistribution to achieve a level playing field among all individuals and communities. This requires recognizing and addressing barriers to opportunities for all to thrive in our society.
Source: Ontario Health's Equity, Inclusion, Diversity and Anti-Racism Framework cancer outcomes in their communities.
We expect to release the findings of this ongoing study in 2022. You can sign up now and we'll send you an email when the study findings are available.
About the MOSAIC Study
A multidisciplinary research team at Ontario Health leads the MOSAIC study. The team aims to better understand inequalities in cancer burden at the small-area[*]small areaClose referenceSmall area refers to geographic areas at the municipality and neighbourhood level. level in Ontario and how they have changed over time. The study has 3 objectives:
Identify inequalities by small area as well as over time (i.e., spatio-temporal differences) in cancer incidence and relative survival among the cancers of interest
Explore underlying factors that may be driving spatio-temporal inequalities in cancer incidence and survival
Engage knowledge users in the research process to enhance utility and reach of the study findings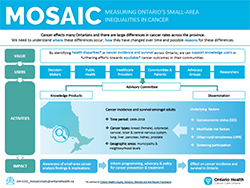 Questions and Answers
Who is involved in the MOSAIC study?
What is already known about geographic variation in cancer incidence and cancer survival in Ontario?
What are the advantages of examining incidence and survival at the small-area level?
What factors are accounted for in the incidence and survival analyses?
What policies or practices might change as a result of the MOSAIC study?
This study was conducted with the support of the Ontario Institute for Cancer Research through funding provided by the Government of Ontario.