Champlain Regional Cancer Program
The Champlain Regional Cancer Program oversees the quality and delivery of cancer services for the residents of Ottawa, Renfrew, Lanark, Prescott and Russell, Stormont, Dundas and Glengarry.
Service Partners
The Ottawa Hospital Cancer Program
The Ottawa Hospital Cancer Program is a comprehensive cancer program serving the population from Deep River to Hawkesbury and down to Cornwall. The program's staff and physicians provide leadership in a network of stakeholders, healthcare professionals and organizations across the region. The purpose of this regional program is to ensure care is delivered according to provincewide quality cancer standards and to provide care close to home when possible (e.g., cancer screening, surgery, chemotherapy, follow-up care and end-of-life care).
As the "hub" of this Regional Cancer Program, The Ottawa Hospital (TOH) operates a cancer centre with 2 sites – at the General Campus of TOH, as well as the Irving Greenberg Family Cancer Centre located on the grounds of the Queensway Carleton Hospital. The centre is a treatment and research facility that brings together doctors, nurses, researchers and other healthcare professionals – all committed to improving care, finding new treatments and enhancing the quality of life of cancer patients.
Partner Hospitals
Vice-President
Cancer Care Ontario Regional Vice-President, Champlain Regional Cancer Program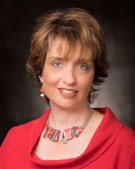 Dr. Debra Bournes
Dr. Debra Bournes, is the hospital's Vice-President of Clinical Programs – cancer, perioperative services, medical imaging, pathology and laboratory medicine.