Central Regional Cancer Program
The Central Regional Cancer Program oversees the quality and delivery of cancer services for the residents of North York, York Region and South Simcoe.
Service Partners
Stronach Regional Cancer Centre 
The Stronach Regional Cancer Centre at Southlake in Newmarket has a vision to provide "Shockingly Excellent Experiences" and quality cancer care services closer to home for patients since 2010.
The cancer centre includes a radiation treatment program, systemic treatment program, clinical trials program, supportive care program, and outpatient clinics. This facility represents an advanced model for cancer care, combining sophisticated cancer technology with expert, patient-focused services and supportive care.
Inpatient and outpatient cancer services across the Southlake campus include:
a comprehensive Diagnostic Assessment Program, which uses the most up-to-date screening and diagnostic equipment, designed to more accurately detect cancer at its earliest stages
expedited treatment options, recognizing the critical importance of early intervention for successful treatment outcomes and reducing the stress and anxiety associated with prolonged waits
state-of-the-art image-guided radiation therapy technology and information systems — the current gold standard for radiation treatment worldwide
a full range of support care services to address the psychosocial needs of patients and their families
Partner Hospitals 
Vice-President
Cancer Care Ontario Regional Vice-President, Central Regional Cancer Program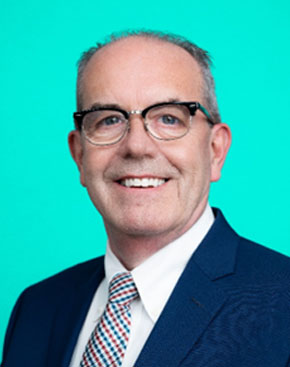 Derek McNally
A Registered Nurse, Derek McNally worked previously as Executive Vice President Clinical Services and Chief Nursing Executive at Niagara Health. In this role, he provided professional leadership to nurses and regulated health professionals across the organization as well as operational leadership for the Clinical Services Portfolio. Derek has had a leadership role in health-care research, education, and administration for more than 30 years in both Academic Health Sciences Centers and large community hospitals. Prior to starting at Niagara Health in February 2014, Mr. McNally was the Executive Vice President Clinical Services at Markham Stouffville Hospital. He has held progressive leadership positions at Trillium Health Centre, St. Joseph's Healthcare Hamilton, The Credit Valley Hospital and the Hospital for Sick Children.