Kidney Cancer
Kidney cancer starts in the cells of the kidney. The kidneys are located on either side of the spine and are responsible for filtering water and waste from the blood to make urine.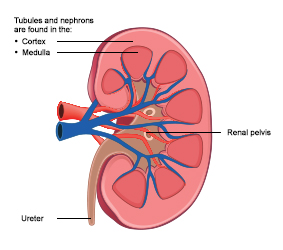 There are several types of kidney cancer:
Renal cell carcinoma is the most common type of kidney cancer, which happens in cells that line the tubules.
Renal sarcoma and primary renal lymphoma are rarer.
To learn more about kidney cancer, visit the Canadian Cancer Society.
What's on this Page
You will find Ontario Health (Cancer Care Ontario) information, resources and tools for:
patients, families and caregivers
anyone interested in kidney cancer
healthcare providers
You will also find links to other organizations that provide information related to kidney cancer.