Breast Cancer
Breast cancer starts in the cells that line the ducts or the lobule of the breast.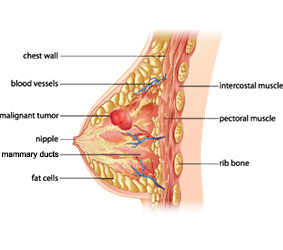 There are 2 ways to describe breast cancer:
Invasive breast cancers extend beyond the wall of the milk duct and into the surrounding tissues.
Non-invasive breast cancers do not extend beyond the wall of the milk duct into the surrounding breast tissues.
To learn more about breast cancer, visit the Canadian Cancer Society.
What's on this Page
You will find Ontario Health (Cancer Care Ontario) information, resources and tools for:
patients, families and caregivers 
anyone interested in breast cancer 
healthcare providers
You will also find links to other organizations that provide information related to breast cancer.