Ontario's cancer care system: Amazing care, important lessons
Working at CCO, I hear "cancer" every day. But when my doctor said to me, "I think you have cancer," the word took on a very different meaning.
I was suddenly thrust into the healthcare system I had been writing about for more than five years in my role as Communications Advisor with Marketing Communications at Ontario Health (Cancer Care Ontario).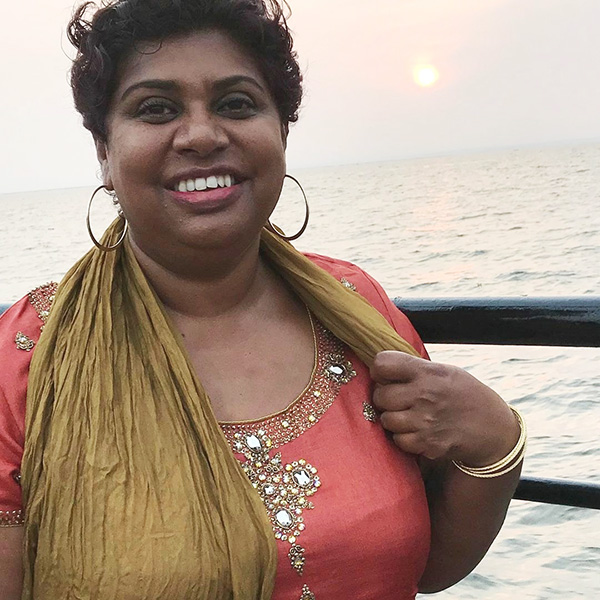 Within a week, I went from suspicion to a diagnosis of ovarian cancer. Still reeling emotionally, I had surgery five weeks later, and my first chemo treatment a mere four weeks after that.
No one's cancer experience is easy, and mine was particularly eventful. I had a severe allergic reaction to my first round of chemotherapy and went on to have anemia and infections. Due to these complications, I visited four different hospitals, saw numerous specialists and landed in the Emergency Department twice.
Aside from one eight-hour episode on a stretcher in the hallway of an Emergency Department (far from ideal for someone with a depressed immune system), I was very impressed with the level of care I received. I especially want to recognize my amazing care team at Princess Margaret Cancer Centre, which included oncologists, nurses, radiologists, lab technicians and a nurse navigator. They not only treated my disease but also attempted to understand how it affected me emotionally and mentally. I also had amazing support from my husband, mother, family, co-workers and friends.
Psychosocial support for patients is so important. We are trying to keep our minds strong while enduring awful chemo side effects. The Look Good Feel Better boutique helped me deal with losing my hair and other appearance-related issues. I learned about healthy living during and after cancer at the ELLICSR Health, Wellness and Cancer Survivorship Centre. The University Health Network Patient Portal, which gave me access to all my lab results, doctors' notes and appointments, provided me with a sense of control and helped me advocate for my health more effectively.
In June 2017, my doctor told me I was cancer-free. That was a great day. But I soon realized a new chapter in my cancer story was just beginning. Like many cancer survivors, I experienced late effects of treatment. Chemotherapy caused near-debilitating nerve problems in my hands, muscle weakness and severe fatigue.
Although these effects stem from cancer treatments, they are not necessarily treated by oncologists. I had to see specialists in neurology, cardiology and rheumatology. I quickly realized that our health system is not as integrated as I had thought. I felt like I was trying to find my way through a maze. Each specialist had their own narrow view of my condition, and they didn't always communicate with each other. As I continue to deal with some lingering neurological issues, my family doctor plays a key role in helping me put all the pieces together.
I am now back at work full time with a new understanding of the importance of what we do at Ontario Health (Cancer Care Ontario). It takes the dedication of many, all working together, to provide quality and efficient services while nurturing patients as people.
I am truly grateful for everyone's contributions to keeping patients central in all our work as we continue to make our cancer system among the best in the world.
Questions about this blog post? Email us at publicaffairs@cancercare.on.ca