"Why me?" Population-based approaches for a personal question
Nov 5, 2017
One of the most memorable letters I have ever received as president and CEO of CCO was from the wife of a man with stage 4 cancer. The question underlying her heartfelt letter was Why? Why did her husband get cancer even though he had (as she put it) "done everything right"?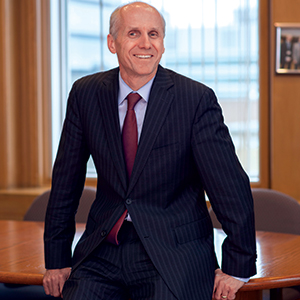 In our healthcare community, we have access to tremendous research about what causes cancer and other serious illnesses like chronic kidney disease, and what puts people at higher risk. But most of our evidence is based on aggregated, impersonal statistics, not single individuals.
While data are critical to our ability to make informed decisions about our health systems, the numbers provide a picture of cancer at the population level, not at the personal level. When cancer strikes, it is very personal.
Often we can't answer why one person gets cancer and another doesn't, or why one person responds well to treatment when another doesn't. Even within my own family, when we have been touched by cancer, I can't answer why.
That's one of the challenges for everyone working at CCO. That's why we do the work we do: to extend the limits of our knowledge about prevention, to improve care for those who do get cancer or kidney disease, and to ensure the system is there for them if and when they need it.
While our knowledge improves and we get better at answering Why? at the individual level, there is also a tremendous amount we know at the population level. When we use population knowledge to improve prevention and care, we can measure the benefits for many or most individuals.
We don't have all the answers at the individual level. Maybe we never will. But we can continue to improve our approaches at the population and individual levels to reduce the burden of cancer and other chronic diseases in our province.
---
Questions or comments about this post? Contact us at publicaffairs@cancercare.on.ca